MOQ for trial production: 200 linear yards
US$ */yd
MOQ for formal orders: 1,000 yards
US$ */yd
From payment to delivery, please follow the usual procedures of the industry.
Production Capacity:
2,000 meters per week
Lead Time:
deliver the first batch is necessary within one week

Trade Procedures
Fetch Swatches -> Confirm or Modify the Requirement -> Sample Confirmed -> Put a Trial Production Order(optional) -> Confirm the Trial-produced Sample(optional) -> Place the Formal Order

Packaging and Shipping Procedures
QC -> Coiled up on Paper Rollers -> Shrinkage|Plastic Bags -> PP Woven Bags(optional) -> Cartons -> Tags -> Pallets -> Send by Sea|Air
UHMWPE Woven Fabric Expert-ish Supplier
Define: UHMWPE
Ultra-High Molecular Weight Polyethylene (UHMWPE) is a type of polyolefin that is composed of very long chains of polyethylene with a very high-quality parallel orientation and a high level of crystallinity. The extremely long polymer chains enable load transfer by strengthening intermolecular interactions. The fabric woven from UHMWPE fiber would obtain all the advantageous features of the fiber itself: high strength, high abrasion resistance, long-term service in sunlight and seawater, water repellent, an excellent lifetime in common alkali and acid chemicals, and so on.
UHMWPE, Dyneema®, and Spectra®
UHMWPE is the brand-free name for this type of material, Dyneema® and Spectra® are the two of the leading and famous brands in this industry, separately owned by DSM group of Netherlands and Honeywell of the US. China manufacturers have made great progress in this field in the past ten years. For the moderate strength and modulus type, it's common and smart to choose fiber made in China, which is reliable and cost-efficient enough to dispel any worries. However, we kept the source of purchasing from DSM, in order to produce the webbing and rope products for the end-user preferred, this situation only happened when the prices are not sensitive.
In-stock or Make-to-Order
Due to the wide applications, and the variant requirement in many factors of performance, it's difficult to premade a series of fabrics in stock to convenience the buyers in small quantities. However, there are some mature types after years of development and application. Here is the list of usual in-stock types for the woven fabric made of UHMWPE fibers:
90gsm, 200 Denier filaments, in white color, 59″ in width ( 1.5 meters );
180gsm, 400 Denier filaments, in white color, 59″ in width ( 1.5 meters );
240gsm, 1000 Denier filaments, in white color, 59″ in width ( 1.5 meters );
Based on the fiber Denier, colors, and woven density, there are different areal weights that can be customized as the form listed below:
| | | | | | |
| --- | --- | --- | --- | --- | --- |
| Denier/Areal Weights | 50~100gsm | 100~180gsm | 160~280gsm | 280~360gsm | 360~500gsm |
| 200D | A | | | | |
| 400D | A/C | A/C | | | |
| 800D | | A/C | A/C | | |
| 1000D / 1200D | | | A/C | A/C | |
| 1500D / 1600D | | | | A/C | A/C |
| 2800D / 3000D | | | | | A/C |
"A" – available, "C" – dope-dyed color fiber for alternatives, including black, light gray, dark gray, blue, orange, yellow, red, etc.
MOQs
There is a certain threshold of Minimum Order Quantities to customize the woven fabric. Small sums of quantity would cause much waste of fiber which is obviously not cost-efficient. We suggest firmly that you could develop the very first prototype with in-stock fabric in the similar areal weight you required as close as possible, then try to reach our MOQ and make the first formal order.
For more info please refer to the old version of sanmau.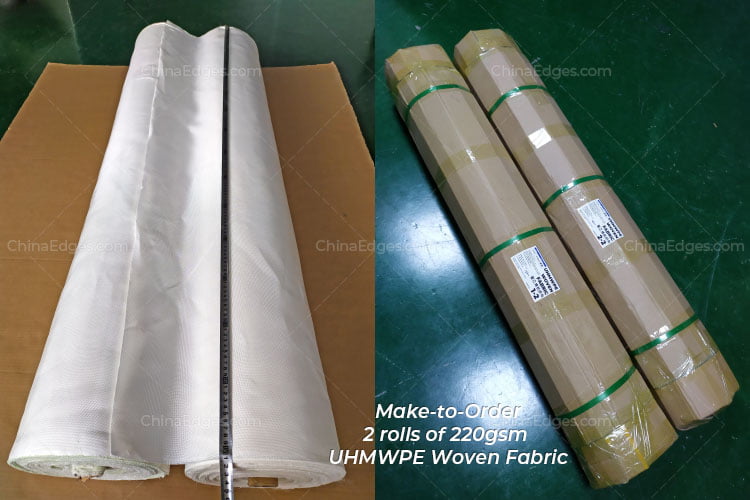 MOQ of make-to-order is generally 2 rolls
This could be the smallest MOQ requirement in this industry. Such quantity for the vendor is mostly affordable, and it's been able to obtain your unique prototype and the subsequently advantaged product in the market.
Blue Twill UHMWPE Woven Fabric by roll
Usually, we won't stock any colorful UHMWPE woven fabric, as the demands are so much different among various industries and applications. Sometimes it's even difficult to get a swatch, not to mention that we can provide the swatch catalog. There isn't any swatch catalog for such fabric, only a few options of in-stock white fabric, any specific demand would require make-to-order. This is the only way to get your unique but most suitable fabric in UHMWPE material.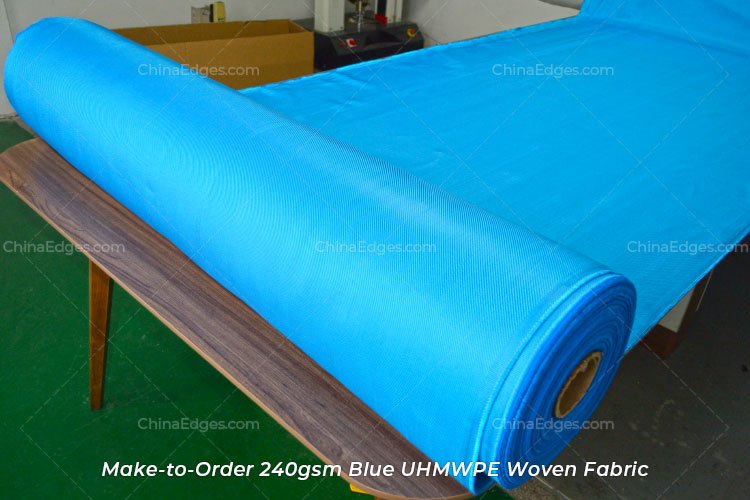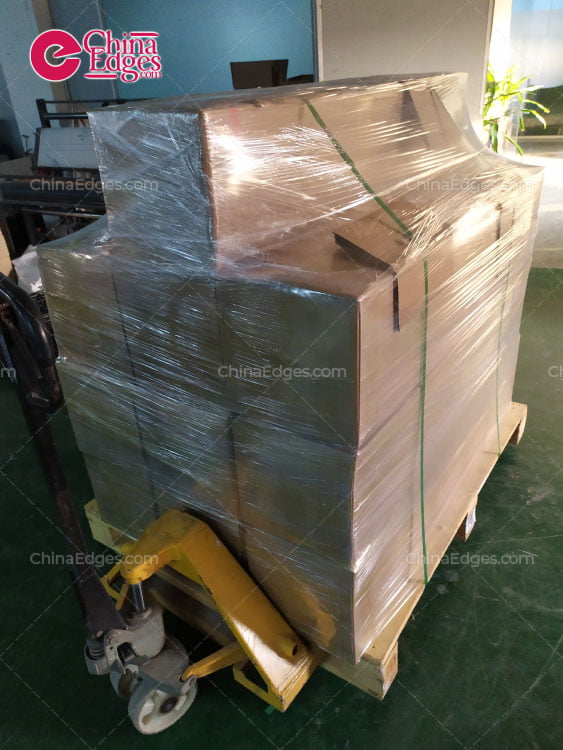 Fabric in Cartons and Ready to Ship
One pallet is the common order quantity for UHMWPE Woven Fabric, about 10~20 rolls, and 100~120 meters in lineal length for each roll. For more useful tips on ordering in such quantities and getting a reasonable freight cost, please refer to the Contact page.